Human Optimization System 360 (HOS360TM)
The foundation of Unicore Health's proprietary HOS360TM software is a patented process that translates a scientific 3600 medical diagnosis of a person's injuries or disabilities to their overall occupational capabilities and matches those to specific job functions and requirements.
The cloud-based technology permits key stakeholders within the Return to Work and Disability industry including Providers, Employers, Insurers, and Third-Party Administrators to communicate in real-time regarding diagnosis, specific job requirements, restrictions and any suitable modified or alternate jobs that may be performed by an individual. Unicore HOS360TM further automates the process by identifying job accommodations for both the individual and the targeted job functions, enabling higher productivity and RTW for disabled or injured workers that need assistance.
Within the HOS360TM system, stakeholders utilize a defined, measurable and repeatable job matching process incorporating:
3600 view of job requirements and an objective analysis of the tasks and steps required to perform the essential functions of each job, enhanced with high definition video.
Clinically based Functional Capabilities Assessment with a set of suggested maximum allowable activities based on the physician diagnosis. These template protocols give Providers guidance as to the maximum allowable physical, cognitive, sensory, environmental, or social capabilities of an individual based on a particular injury, disability or co-morbid condition.
The benefits of the Unicore HOS360TM system include:
Reduced lost time expenses.
Objectified Return to Work process.
Improved workforce productivity.
Improved workplace safety and employee retention.
Immediate access to critical clinical and occupation information.
Enhanced claims management and control of claims costs.
Improved quality of medical care for injured or disabled employees.
Cross-functional collaboration (HR, Legal, Diversity, Business Unit).
Functionality to manage federal compliance guidelines and reporting.
Keep in Touch with Us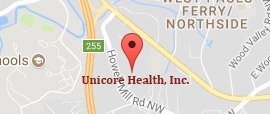 Unicore Health, Inc.3200 Downwood Circle
Suite 410, Atlanta, GA 30327
[javascript protected email address]