Unicore Military
The Unicore Military system facilitates Department of Defense (DoD) and Veterans Administration (VA) inter-agency communication, identifies clinically relevant diagnoses, provides for Return-to-Duty/RTW decisions, and streamlines determination of MOS reassignment or transition. The cloud-based system connects human resources, treating Primary Care Managers (PCM), veteran advocates, and military leadership with real-time data to improve personnel reassignment or civilian job alignment for transitioning veterans.
Using Unicore Military, military experts may collaborate real-time to analyze completed training courses and the primary job functions that an injured service member performs, including all essential functions and requirements, and use this information for objective and accurate Return-to-Duty decisions or possible careers in the civilian sector for individuals that are medically discharged.
Benefits realized by the DoD and VA through Unicore Military include:
Improved process for matching service person's disability rating to job opportunities.
Secure military's investment in service members by improving re-assignment percentages of the wounded, ill and injured population.
Streamline the process for displaced veterans seeking employment.
Greater visibility across military departments of job requirements and opportunities.
Keep in Touch with Us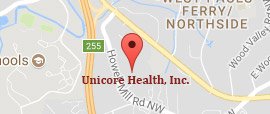 Unicore Health, Inc.3200 Downwood Circle
Suite 410, Atlanta, GA 30327
[javascript protected email address]