Unicore Health, Inc.
Unicore's mission is to be the leader in innovative technologies that optimize human performance in the workplace. Our primary objective is to deliver unique "healthcare to workforce" solutions that maximize job potential for persons with disabilities, injured workers, and wounded veterans. We change the assertion from "what a person can't do," to "what they can do."
Unicore's patented software, the Human Optimization System 360 (HOS360TM), is a cloud-based integrated system that translates a scientific 3600 medical diagnosis of a person's injuries or disabilities to determine their overall capability, and matches these competencies to specific job functions and requirements.
The realized benefits deliver repeatable best practices and immediate return-to work decision-making that reduces lost time, lowers administrative costs, and improves outcomes for Employers, Providers, Insurers, government and Military departments.
Keep in Touch with Us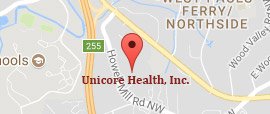 Unicore Health, Inc.3200 Downwood Circle
Suite 410, Atlanta, GA 30327
[javascript protected email address]